Finally
, the cookbook
100 Recipes Every Woman Should Know
by Glamour came back in for me at the library. I've been waiting…….ought to buy it but….I am sticking to a budget and just looking at the overburdened cookbook shelf, yeaaah….don't need to get it just yet.
One of my previously marked recipes in this book was
Simply Sophisticated Seared Tuna
. Oh...what a hit!
Are you ever in a hurry to get dinner on the table? Need something that isn't fast food and looks and tastes like you labored long and hard? This is it. Lets get right to the easy recipe, shall we?
Simply Sophisticated Seared Tuna:
Tuna Steaks Seared with Ginger, Soy and Brown Sugar
1 TB peeled and minced fresh ginger
1 garlic clove, minced
2 TB brown sugar
¼ cup soy sauce
2 TB fresh lemon juice
Two 6-ounce tuna steaks, about ¾ inch thick
Salt and pepper
1 TB olive oil
2 scallions, thinly sliced
In deep dish or pie plate, mix ginger, garlic, brown sugar, soy and lemon juice.
Season tuna generously with salt and pepper, both sides. Place tuna in dish to marinate for 1 hour. Try and turn the tuna over at least once.
The book calls for you to use a cast iron skillet, heating 1 tablespoon olive oil. (Our first inclination for fish is to fire up the grill but the cast iron fry pan actually works best for this recipe)
Pat tuna dry and add steaks to skillet. Cook to desired time. In the pan you may need 8 minutes total. If you
do
use the grill, about 3 minutes each side. We like it pink, sorta medium rare.
Transfer to plate and sprinkle with scallions.
The perfect side (recommended in the book) for this is
Beyond Basic Broccoli
So I will tack this recipe on as well.
Trim
broccoli so you have the florets. Bring a pan of water to the boil, meanwhile fill a bowl with ice water.
Add broccoli
to boiling water, cook uncovered until tender (when you can pierce with a fork.) Using tongs transfer broccoli to ice water the drain in colander. Wipe out the pot.
Add 3 TB olive oil
and 4 thinly sliced cloves of garlic and cook, stirring occasionally until golden, about 1 minute.
Add
the broccoli and cook, stir frequently, for 2 minutes and heated through. Add salt, pepper and a ¼ teaspoon red pepper flakes for oomph.
Confession....
Now......I will confess to steaming the broccoli and tossing some shredded mozzarella over the green mess.
Yes
, I did attempt to prepare the broccoli in the prescribed method for an earlier meal. Ok, almost.......
Truth is
, that step about placing the boiled broccoli into icy water...I screwed that step up and let it sit too long in the water....so the end result was soggy broccoli.
For you broccoli lovers, hey...no offense. But covering it with cheese (at least it was low fat mozzarella) is the only way I can stomach this veggie. Just not a big fan.
Anyhoo....here's the book. Check it out, I think you will enjoy it as much as I do. Also, check out Sue's site
Couscous & Consciousness
for her Cookbook Sunday Series!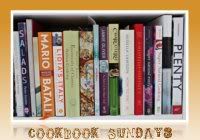 Cheers!