See the end of this road? If you look closely you'll see water. It's the Gulf of Mexico and this road dead-ends right to it. What a sight.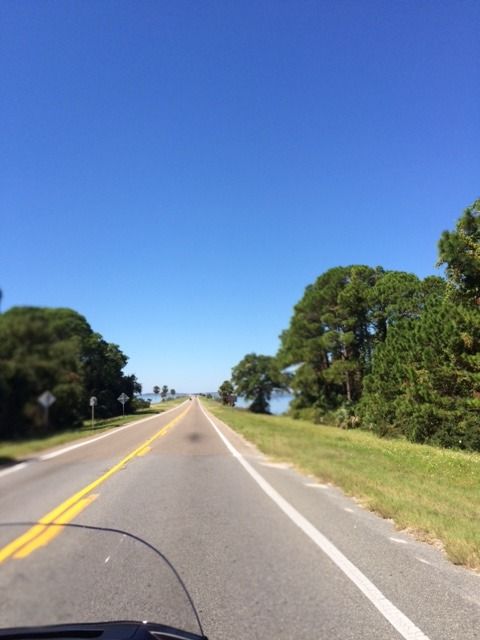 Highway 98 is just gorgeous to ride along and enjoy the gulf breeze, watch diving pelicans and see boats drifting along.
Doug's beard is getting longer so these ties are just the ticket to keep it from blowing around when we are riding. I like this look.
This is a snap heading up the bridge towards Apalachicola. I wish I kept my phone out for the ride home because the scenery is stunning. The temps ended up higher than we anticipated so I took my jacket off, that's where I keep my iPhone for handy access, rode home with a shirt and no place to hold my phone.
We like the oysters at Boss Oyster but they are expensive, so we took the advice of a coworker who said Papa Joe's is way more reasonable. Very true. While Papa Joe's doesn't have the ambiance or a view of the water, they were better price wise. Our oysters were good and salty.
This carved head was for sale, just inside the door at Papa Joe's. They also had beachy type jewelry such as
puka bead
necklaces and t-shirts for sale.
We passed this campground on the way and I thought again about how much fan we had camping years back. We don't ever seem to be able to balance fun activities for whatever reason. When we got the Sportster and then other motorcycles we just rode each weekend instead of camping now and then. Eventually we sold our Sunnybrook.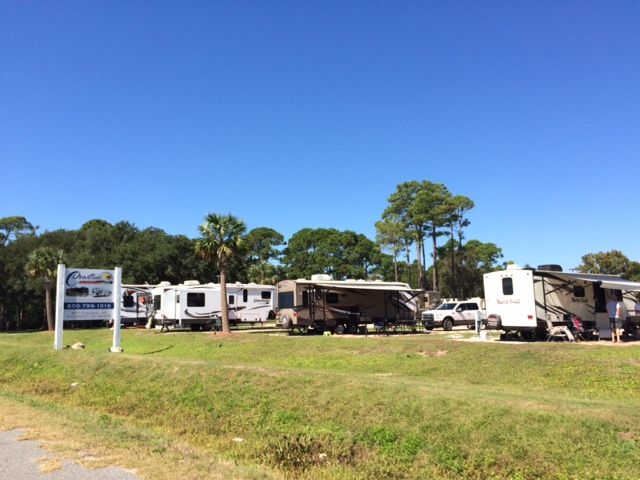 In the upcoming retirement years (
we're almost there!
) it might be nice to get a small Class-C camper with the ability to pull the trike on a trailer. We want some good trike road trips too but a camper would be nice to get us to states that are very far away, such as Montana or Washington state, and we could ride out and explore from a base camp.
I also like the idea of having our own bed and the ability to control our diet. Cooking our on meals and of course, campfires!
So there you go....dreaming again. I'm so close to retirement I can taste it so consequently, I do a lot of dreaming.
Hoping you are well in your part of the world and enjoying life and some good Autumn weather.
xxxxx