Happy Friday to you all! This is my first evening of vacation. Unfortunately our plans to visit Cedar Key were cancelled for the second year in a row. We like to spend the third week of October away from our humid little neck of the woods. Last year the Lo-Key Hideaway canceled on us for remodeling. This year it was due to disaster.
Hurricane Hermine j
ust about destroyed the Lo-Key Hideaway where we had reservations. The rooms were flooded and so all furniture had to be tossed. There was mud in the rooms and offices....a huge clean up job so, we won't be going there this vacation. We will take lots of rides and eat at places we've never tried, pick up the remains of a tree in the field (Hermine did it) and read. And eat. And imbibe.
Now let me share a good recipe. I got the inspiration for this dish from
Pam at Sidewalk Shoes.
Thanks, Pam, we loved this Frittata!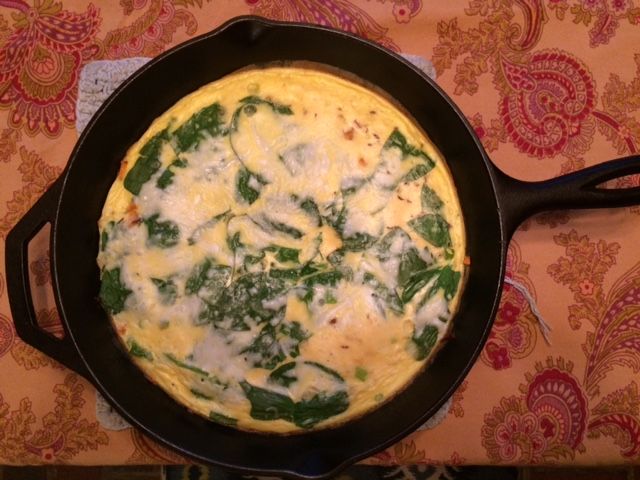 Ooey, gooey forkfuls
of yummy sweet potato and spinach. Cheesy enough but not too much (can there be too much?)
What I need is a smaller frying pan then this frittata would be taller. I have a very small cast iron and then a 14 inch variety. Medium is what I need so I may just buy one this weekend. Served with a hearty bread and you have an excellent meal.
I'm making this again for sure. Next time I am adding smoked dried tomatoes.
I am sharing this with
Beth Fish's Weekend Cooking Series
.
Weekend Cooking is open to anyone who has any kind of food-related post to share: Book (novel, nonfiction) reviews, cookbook reviews, movie reviews, recipes, random thoughts, gadgets, quotations, photographs. If your post is even vaguely foodie, feel free to grab the button and link up anytime over the weekend. You do not have to post on the weekend. Please link to your specific post, not your blog's home page. For more information, see the welcome post.